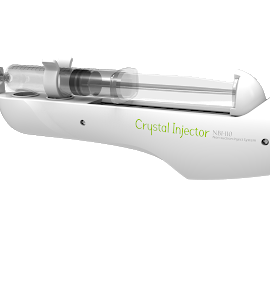 Crystal Injector
Overview
Crystal Injector is an innovative digital injector system made in Korea. Its purpose is to deliver cosmetic products into skin and can be used with various kinds of products like Restylane and Rejuran to achieve a wide range of cosmetic purposes. The precise control and safety features along with automated suction function allow stable delivery of cosmetics. To maximize the delivery result and treatment productivity, Crystal Injector can be used with specially designed sterile multi-needles.
Crystal Injector is an advanced and innovative delivery system. This device allows advanced drug delivery on face with sterile multi needle. It also enables suction function and special multi needles to penetrate the skin so that less time and efforts are required for the injection.
Indications and Treatments 
Crystal Injector can be used with a wide range of cosmetic products to achieve various cosmetic effects. The benefits it can bring depend on the products it is operated with.
The skin may be slightly red and swollen after the injection but normally, it will fade away within three to seven days.
Crystal Injector must be handled by medical professionals to ensure safety. And the product is a medical device classified under level 2 medical equipment.
*Disclaimer: The results of the treatment vary from person to person and are influenced by personal health state, dietary habits, self-management and frequency of treatments etc. We will not bear any responsibilities for the treatment results.