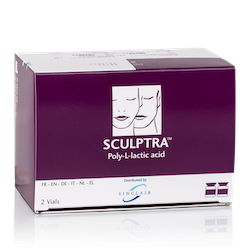 Sculptra®
Overview
Facial fillers are substances that temporarily soften wrinkles when injected into your skin. Injection of a facial filler is generally an outpatient procedure that's done under local anesthesia. The procedure takes up to an hour.
You might have mild discomfort, bruising and swelling for up to a week. After the swelling goes down, you might need a touch-up injection for best results. How long the effect lasts depends on factors such as the type of wrinkle and filler used.
Indications and Treatments
Poly-L-lactic acid (Sculptra). This product is used to restore facial volume lost due to aging or illness. Two or three injections are usually required. The effects last up to two years.